General Galleries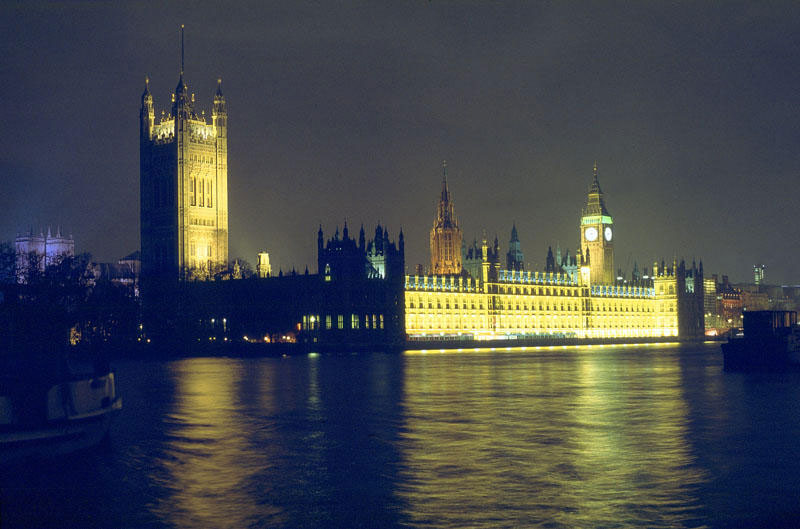 Houses of Parliament, London
Introduction
In the past I have outed myself on Photo.net as Minolta addict, and over the years I have experimented with medium format (Autocord LMX), rangefinders (Himatic 7SII and Minoltina-S), and auto focus (600si with AF 24-85mm), but until recently I kept coming back to the 35mm Minolta manual focus SLR system. These old cameras and lenses offer incredible value for money, and I find them a lot of fun to use. At the height of my manual focus Minolta addiction, I owned more than 10
camera bodies of this system with at least twice as many lenses (mostly fast primes from 16mm fisheye to 400mm tele lens), a TTL multi flash setup, and a raft of various more or less useful accessories, including the viewing and scanning equipment necessary to properly enjoy the results of shooting high quality Fuji slide film.
My wife is a New Zealander, I am German, and together we have lived in Fort Collins, Colorado; Canberra, Australia; and now Kent, Ohio. The associated traveling and moving around has given me plenty of photo opportunities. In February 2006 we made a huge lifestyle change, which also prompted a big change in my photo equipment. We decided to bring two true Ohioans into our family, and adopted Mariah (6) and Malachi (7), for which I became the stay-at-home-dad. There are plenty of photos of them in the family galleries section. This caused me to abandon Minolta (at almost the same time Minolta abandoned the photo world!) to buy into the Canon EOS system. To get me going I sold a bunch of Minolta gear and used the funds to acquire a Digital Rebel XT. I had funded the acquisition of my Minolta collection by buying gear cheaply and selling it at a profit, and I soon discovered that this worked not only with Minolta, but also with Canon EOS gear.
My current Canon collection includes:
T1i (a.k.a. 500D)
20D
2x Speedlite 420ex
ST-E2 Speedlite Transmitter
EF-s 10-22mm f3.5-4.5 USM
EF-s 17-85mm f4-5.6 IS USM
EF 35mm f2.0
EF 50mm f1.8 II
EF 100mm f2.8 macro USM
EF 70-210mm f3.5-4.5 USM
EF 100-400mm f4.5-5.6 L IS USM
The Canon DSLRs are a joy to use, and I picked up the 20D used in like-new condition for a mere $150! I love the instant feedback and their in my view formidable low light capabilities. Being used to the viewfinder of a quality manual focus SLR, I could never be happy with a P&S, but the viewfinder of the Canon APS-C sensor cameras causes me surprisingly little consternation, considering the bad press they continue to get across the usual internet forums.
In the Minolta realm I will probably retain not much more than a core set of gear around my first ever SLR – a black chromium plated XD-7, purchased brand-new in Germany in the mid 80s to support my hobby at the time – train spotting:
XD-7 black
XD-7 chrome, plain matte focusing screen
SRT-Super
MD 24mm f/2.8
MD 28mm f/2.8
MD 50mm f/1.4
MD 75-200mm f/4.5
Teleplus MC7 2x macro teleconverter
It's waiting for a comeback, but so far the MD system has been relegated to collect dust ever since I got the DSLR!
I love people photos, and for a while the kids were more than willing models, as you can see in the family galleries section. Now I am mostly back to aquarium photography, as you can see in the aquaristic section of this site.
Leave a Reply
You must be logged in to post a comment.