5G Technology
The Tank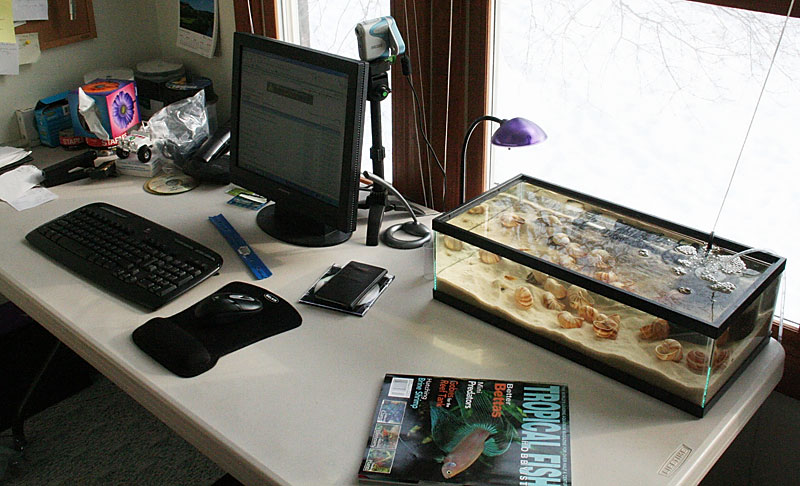 My plan was to put a little tank on the edge of my desk where I would be able to observe the fish while working on the computer. I had a number of 10G tanks still lying around, but was concerned that these might be too heavy for the desk, as well as look a little unwieldy. To make along story short, I headed to Dave Hale's wonderful store
Somethingfishy
in Cleveland, and found a tank that seemed perfect for my purposes - a half-10G tank; that is a tank that has 5G in volume, but has the footprint of a 10G tank with only half its height. In other words, this tank measures 20"x10"x6" instead of the 16"x8"x10" of a regular 5G. Considering that most cichlids, and especially shell dwellers, don't make much use of the height of a tank, but really benefit from a larger footprint, the tank was a great find! People continue to ask me where they can get tanks of that size. Dave Hale had only the one in store at the time, and does not usually stock these. Generally, it's not a standard size, not produced by most manufacturers, and rarely available in stores, but for example
Glasscages
lists the tank for a modest $20 (at the time of writing this article in January 2009). They do not usually ship tanks in the mail, but it might be worth a phone call to find out if they would make an exception for a tank so small.
Filtration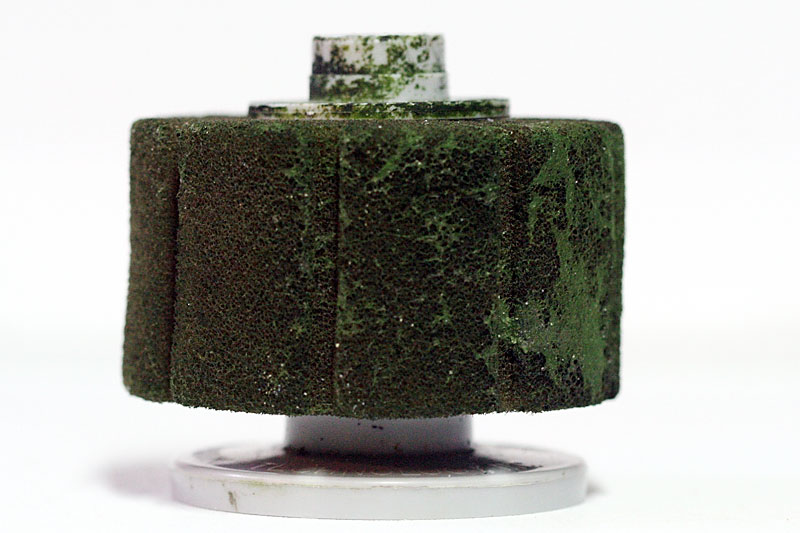 Filtration for this tank is provided by an
ATI Hydro-Sponge
filter H-I, driven by a little airpump. Sponge filters provide excellent biofiltration but not much in terms of mechanical filtration. Mechanical filtration is largely a cosmetic issue, and can easily be taken care off in a tank as small and accessible as this one. Biofiltration is what keeps the fish healthy, and superb water quality is a must for most cichlids from Lake Tanganyika, including the gold occies in this setup. For these reasons, a sponge filter seemed to be the idea solution for this tank. I was also planning on a lot of fry from the outset, and while fry can easily get sucked into any power filter, a sponge filter is perfectly save. ATI Hydro-Sponge filters are very well made with good size sponge pores and a solid base. I know many people who swear by them for their breeding setups, and I can no recommend them warmly enough. For this very shallow tank I am using the filter without the provided transparent plastic tube on top, which usually improves flow. It does a fantastic job in this setup regardless.
Heating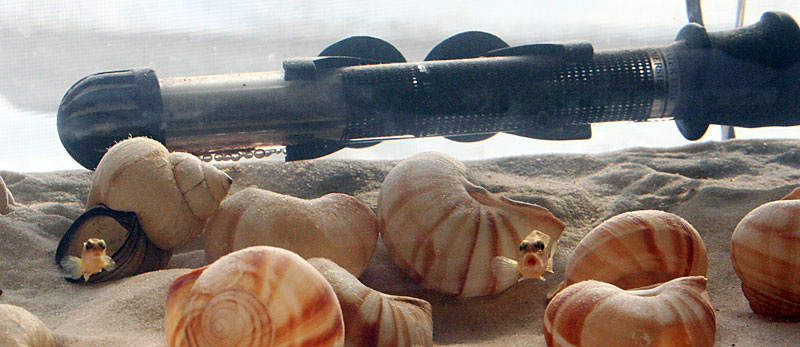 Cheap heater that can be regulated and fully submerged.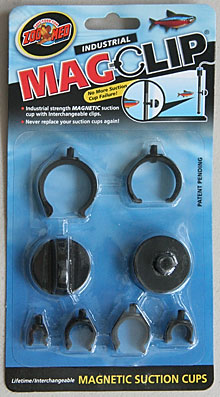 Heating is provided by a cheap little heater where I am no longer sure of the wattage - I am guessing 50W. It can be regulated and is fully submersible. Heaters without these two latter specs are simply garbage. It is not very attractive, but unfortunately a heater is a must for shelldwellers who are used to the warm climate of Africa. For the longest time I had difficulty holding the heater in place, due to the usual problems with suction cups. This problem was solved once and for all, when at the OCA Extravaganza I was introduced to
ZooMed's
fantastic
Mag-Clips
. They are considerable more expensive than suction caps, but for a change they actually work! For me Mag-Clips have become one of those little things that once you know about them, it would be hard to live without. By now, I have converted all of my tanks to Mag-Clips!
Lighting
This tank gets a lot of natural light from an east facing window. I was worried that algae might be more of a problem, but although I occasionally had to remove some lumps of hair algae in which the occies can actually get stuck with their gills, algae generally haven't been much of an issue with this setup. If I want to view the tank at night, I am using my desk lamp, which was about $10 at
Target
.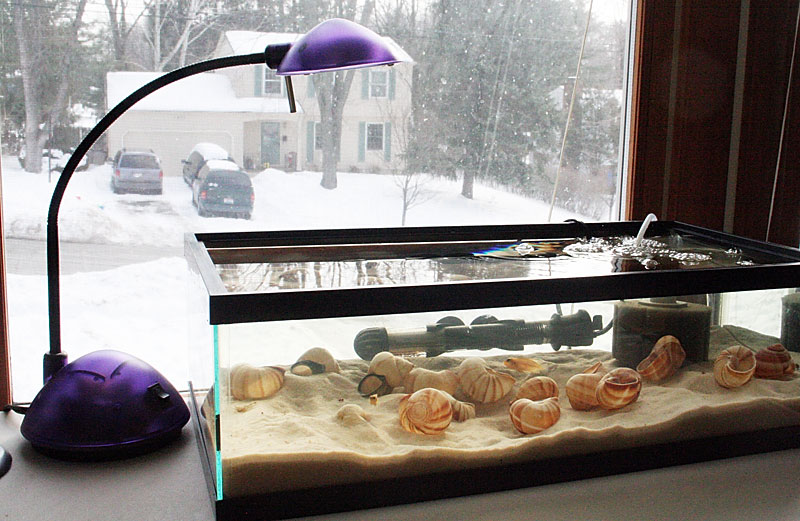 Leave a Reply
You must be logged in to post a comment.